Nordic Kiwi Brewers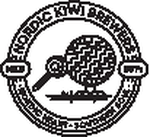 SO WHAT'S OUR STORY THEN?
Like all craft brewers we are passionate, dedicated and brew for the love of good beer. So where do we differ? Well, we're a couple of Kiwi fellas out to showcase only the finest New Zealand hops. Punchy aromas and intense flavours infuse to give you a unique taste of the New World right here in the Old one.
A while back we gave our hearts to the North and whilst we now call Sweden home, our souls will remain forever in the South. We trust you can taste this duality in every drop of our fine NKB craft and we like to think this gives our beers • Nordic Heart • Southern Soul • Cheers!
Craig & Kerryn Founders, brewers & general dogsbodies of NKB info@nkbrewers.com facebook.com/nkbrewers #nkbrewers
Customers for Nordic Kiwi Brewers ( pcs)
Systembolag which has Nordic Kiwi Brewers ( pcs)