West Coast IPA 6.5% 24x330ml Can
Stigbergets
What does it even mean?
It's not what you think. Well maybe I don't know what you think. But if you have an opinion
on what a West Coast should be, throw that away just for now. This is a Scandinavian
West Coast. Which we can assure you is very different from the Scandinavian East Coast.
More rocks, people are friendlier, but let's not get bogged down in that.
What you need to know though.
It's our flagship NEIPA. Extra pale base, oats, wheat, generous dry hop of Citra, Mosaic
and a charming local seagull on the can. Affectionately known as måse (seagull) in
Gothenburg, West Coast is light in colour, full bodied, low bitterness and brimming with
tropical fruit flavours.
| | |
| --- | --- |
| Category | IPA |
| Origin | Sverige |
| Region | Västra Götaland |
| SKU | 120515/24 / 120515 / 7350081460716 |
| Volume | 24x330ml |
| Volume percent | 6.5% |
| Container | Can |
| Alcohol tax | 109.20 SEK - 4.55 SEK/unit |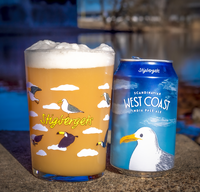 Customers buying Stigbergets West Coast IPA
Systembolag which has Stigbergets West Coast IPA