MargarIPA 6.0% 24x330ml Bottle
Hopsie Daisy
In 1953 the Esquire Magazine described the famous cocktail Margarita as: "She's from Mexico, Señores, and she is lovely to look at, exciting and provocative."
OH YAWN! Let's bring this into the 21st century - shall we?
Señoritas and Señores, what better way to continue the Hopsie Cocktails Series than brewing a beer with agave syrup, lime zest and bitter orange? We call it MargarIPA and we let it be as sexy, funky, ugly or awesome as it wants to be!
By the way, did we mention that Daisy is Margarita in Spanish....?!?
Best served in combination with:
Flor de Toloache - Let Down
Anouk - Margarita Chum (acoustic version)
| | |
| --- | --- |
| Category | IPA |
| Origin | Sverige |
| Region | Gävleborg |
| SKU | - / 3288303 / 7350004750078 |
| Volume | 24x330ml |
| Volume percent | 6.0% |
| Container | Bottle |
| Alcohol tax | 96.00 SEK - 4.00 SEK/unit |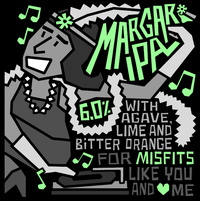 Customers buying Hopsie Daisy MargarIPA
Systembolag which has Hopsie Daisy MargarIPA