The Return of SUPER SAISON 8.5% 12x375ml Bottle
Stockholm Brewing
The second chapter of the Adventures of Super Saison. First brewed in 2015, it became a visiting brewers' favourite. This version spent a year in old oak barrels (yeah, we know the label says 6 months) after primary fermentation in stainless steel. We pitched brett and let it fight it out with the house culture of natural yeasts and bacterias.
It's a powerful hero of a beer with a surprisingly elegant light touch: tart and funky, with notes of apricot, elderflower, vanilla fudge and wet hay. Complex and rather drinkable.
The hero you need...
| | |
| --- | --- |
| Category | Fatlagrad öl |
| Origin | Sverige |
| Region | Stockholm |
| SKU | 1093203/12 / 1093203 / 7350010180760 |
| Volume | 12x375ml |
| Volume percent | 8.5% |
| Container | Bottle |
| Alcohol tax | 77.28 SEK - 6.44 SEK/unit |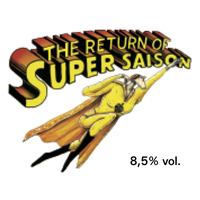 Customers buying Stockholm Brewing The Return of SUPER SAISON
Systembolag which has Stockholm Brewing The Return of SUPER SAISON